Semi-Off Road Standard Camper Trailer with 25m2 Tent
If you're looking for high quality Australian made camper trailer thats doesn't compromise quality for the sake of price then you've come to the right place.
You hear the horror stories about Chinese imported trailers falling apart on the first trip spoiling the family holiday and embarrassing its owner in front of their family and mates. What most buyers don't know is that the true cost comes when it arrives and you get it checked out by a mechanic and they're shocked at the poor quality and the cost it takes to fix it. And sometimes its just not worth fixing.
Our mission here at My Camper Trailer is to ensure you get a high quality Australian made camper trailer that comes without the hassle and cost that is a massive frustration for so many who unknowingly purchase imported camper trailers.
We know that many distributors do this because of the price and we know personally because we get approached by Chinese manufacturers all the time. Its not worth it. Always ask the distributor where they get their camper trailers from!

It won't happen to you as our trailers are all made locally and meet all required Australian and New Zealand standards. The headaches and the stories we've heard just don't justify the price of imported camper trailers and thats how we have become the #1 online camper trailer superstore.
My Camper Trailer is Australia's online superstore for camper trailers.

Non-bias advice on campers that you won't get anywhere else.

We only offer high quality Australian made camper trailers, so you can rest assured your brand new toy is as tough as it gets.

If you are like me, you like to have the best price but you don't want to compromise on the quality. I think the same way and that is exactly what I had in mind while putting the selection of trailers together that you can see here on my website.
This camper trailer comes with a full 2 year parts and labour warranty. Pick up available from our manufacturer in Sydney or see below in our shipping section if we can deliver it to your door. Home delivery is not a service we can provide to all cities just yet but we have depots in all major capital cities to ensure you can pick up your camper trailer no matter where you are.
As our superstore grows as new Australian camper trailer manufacturers come on board, we'd love to hear feedback from you. Please feel free to contact us with any suggestions, feedback or comments in regards to My Camper Trailer products.
Certain videos and images show optional accessories that do not come with the base camper itself but can be purchased. See the accessories list below for more information about the optional extras.
The Trailer
This Blue Tongue semi off-road camper trailer is a fantastic entry level camper that can go anywhere that most small-medium sized SUVs can go. It cant tackle difficult terrain like our off-road camper trailers can but it will get you down normal dirt roads. Its lightweight design is perfect for even the smallest of vehicles and its affordability is tailored to the family budget with the luxury to being optioned up to suit your personal and family requirements.
100% Australian built

7' x 4' (2100mm x 1200mm) trailer size with high sides

Hammer tone paint finish for rust and scratch proof resistance. This finish is built to last in the australian outback and it holds its resale value dues to its lasting non rusting quality and durability.

New 15" 1000kg rated alloy wheels

Brand new 205/65 R15 tyres

Land Cruiser 6 Stud Hubs

900kg 45mm x 6mm x 5 Leaf Slipper Spring Suspension

Wind down corner steady stabilising legs to ensure your camper trailer is rock solid while its up.

Quick release fold up Jockey Wheel

1 x jerry can holder

1 x gas bottle holder

Side opening Tailgate with the potential for full stainless steel or powder coated kitchen add on

And much more!
The Tent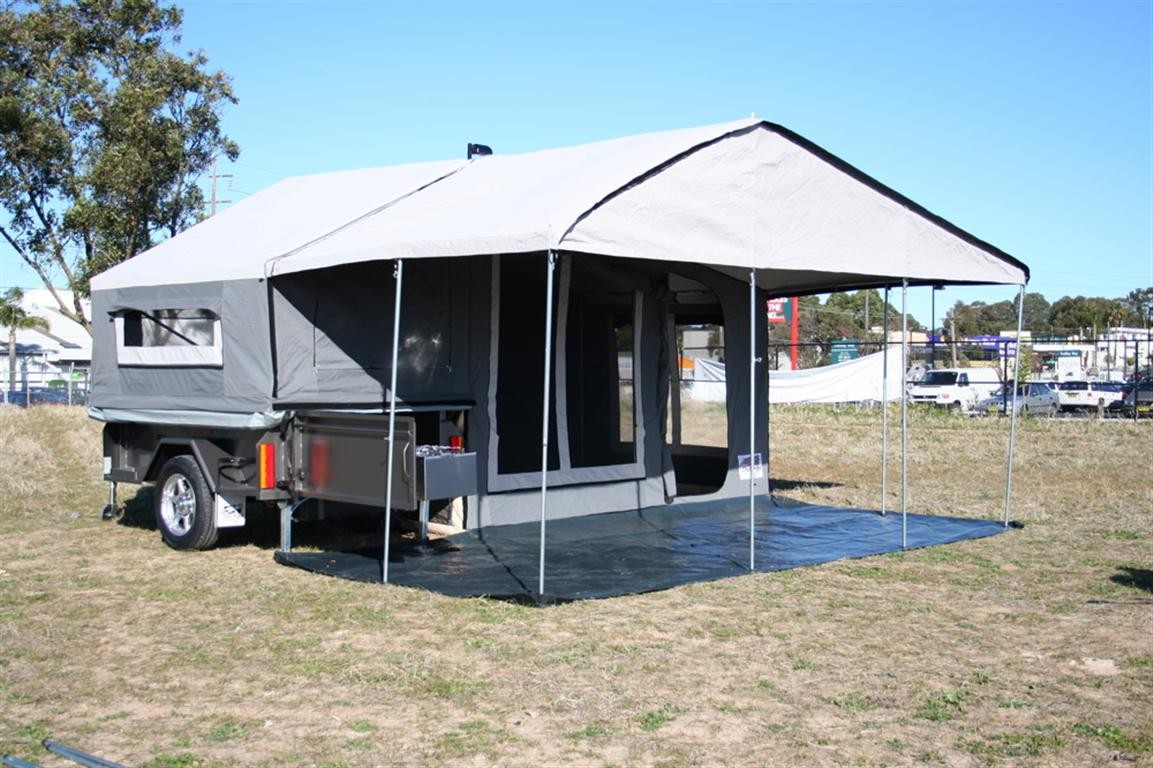 The camper trailer tent is made to our custom design and styles to exceed to your expectations. The canvas used on the roof of your Camper is a Silver Coated 475gsm (14 Oz) blended cotton canvas. In a similar process to the 475 gsm (14Oz) wall fabric this fabric is treated further to provide 800mm hydrostatic water head and maintains the same level of breathability. After weaving the fabric is rolled under pressure to accept the silver coating that blocks out more than 98% of UV radiation and heat. The technology used in this protective coating has been developed to provide a level of finish is rarely used in a canvas product.

This 2012 model has new upgraded features and a fly included that has treated with the same Silver Coating as the roof canvas to provide excellent heat resistance.
Huge 18' x 15' Camper trailer tent covering 25m2

Sleeps 8 or more or just plenty of living room

Quality 14oz rip stop canvas and heavy duty zippers

Sewn in PVC 450g/m2 sealed floor to main tent area

3 Piece annex walls for easy install/versatile configuration

Awning floor sealed and detachable with Velcro

Detachable annex roof with zipper and Velcro

Windows with self supporting rain shields(guide ropes supplied for use in windy conditions only)

Internal storage pockets

Pegs and guide ropes included

Selected windows with 1/2 clear PVC & 1/2 mesh.

18mm marine grade plywood base with steel framing with access to trailer via a trap door and power cord access zipper

Quality PVC dust proof and waterproof camper cover with Velcro and zip

Bed 1: 175 x 230cm, bed 2: 360 x 230cm, kitchen/living: 535 x 240cm

In a choice of 2 Great Colours - Blue/ Beige or Dark Grey/ Light Grey


The Features and Free Extras
Huge 18' x 15' Camper trailer tent covering 25m2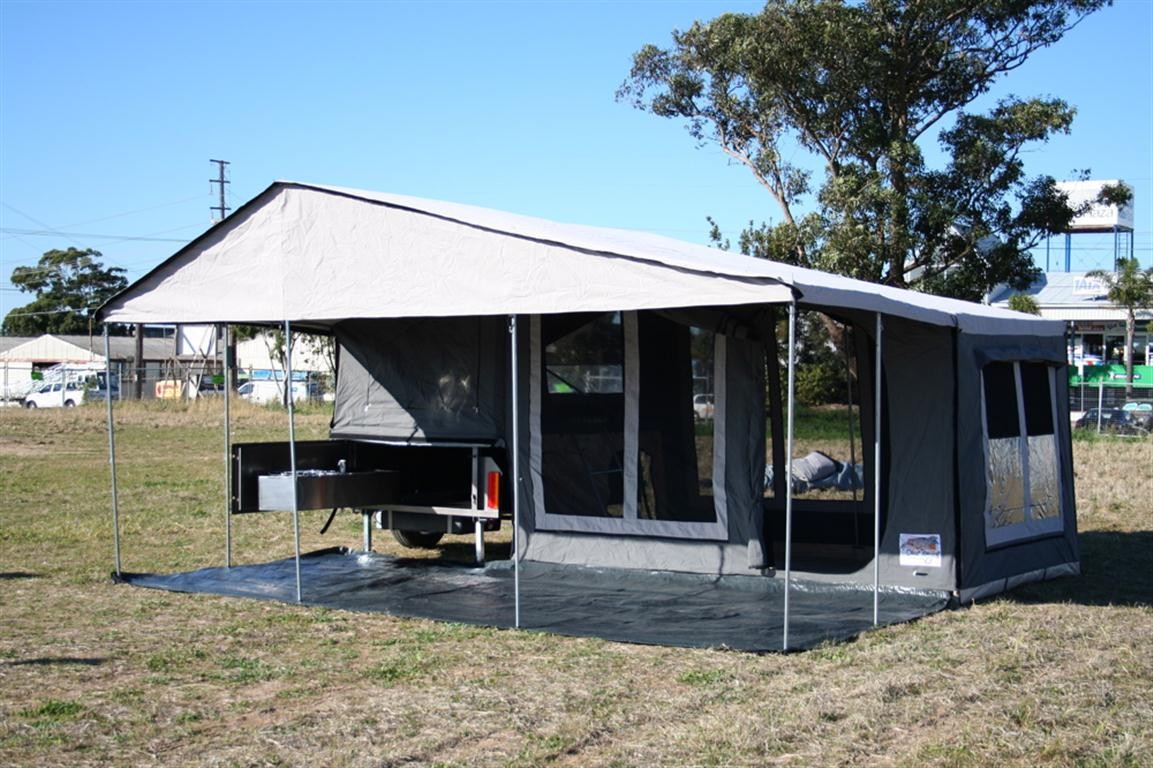 This huge tent can sleep 8 or just gives a great amount of living space. We decided that we wanted to make the standard tent size as big as it needed to be for the standard australian family without the need to get any additional annexes. Having the perfect size as part of the trailer means that you only have to fold it out and your done without having to spend additional time putting up attaching extra rooms. If you do require extra space because your travelling with friends and family you always have that option too.
Hammer tone paint finish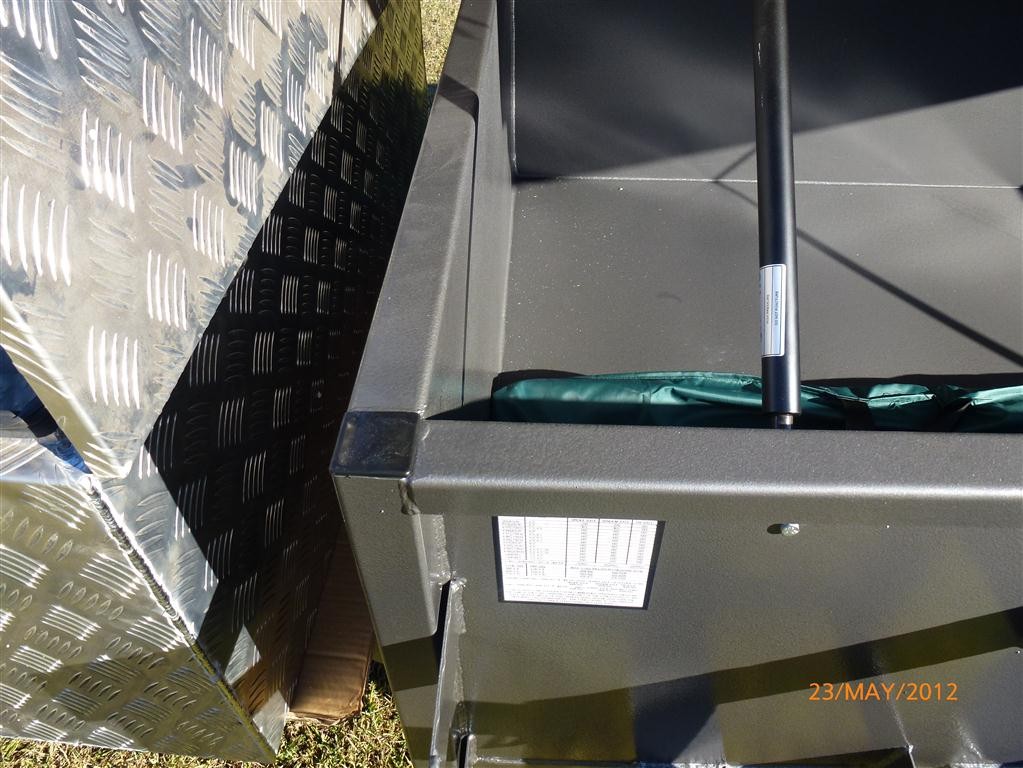 The hammer tone finish is a paint that forms a uniform, durable, high quality and attractive finish. It's a must to ensure your camper stays in top notch condition free from scratches and the rust that follows.
Detachable ladder for main bed access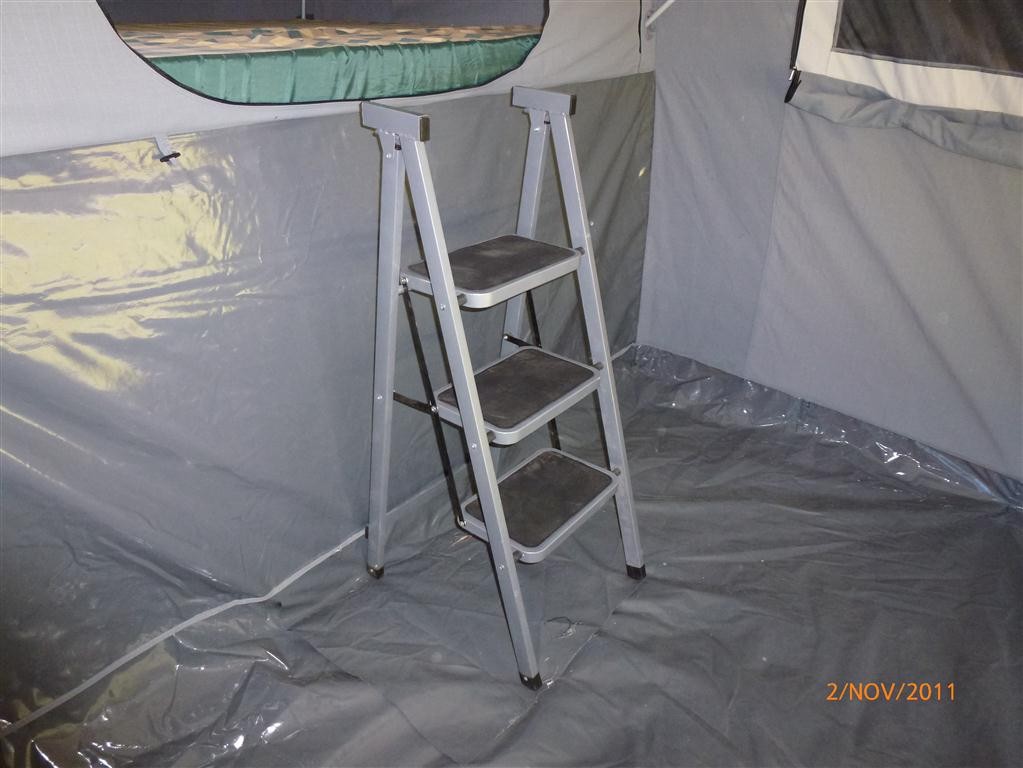 This simple yet necessary extra is just a must have convenience to make your camping experience that little bit more hassle free.
Generous 10cm mattress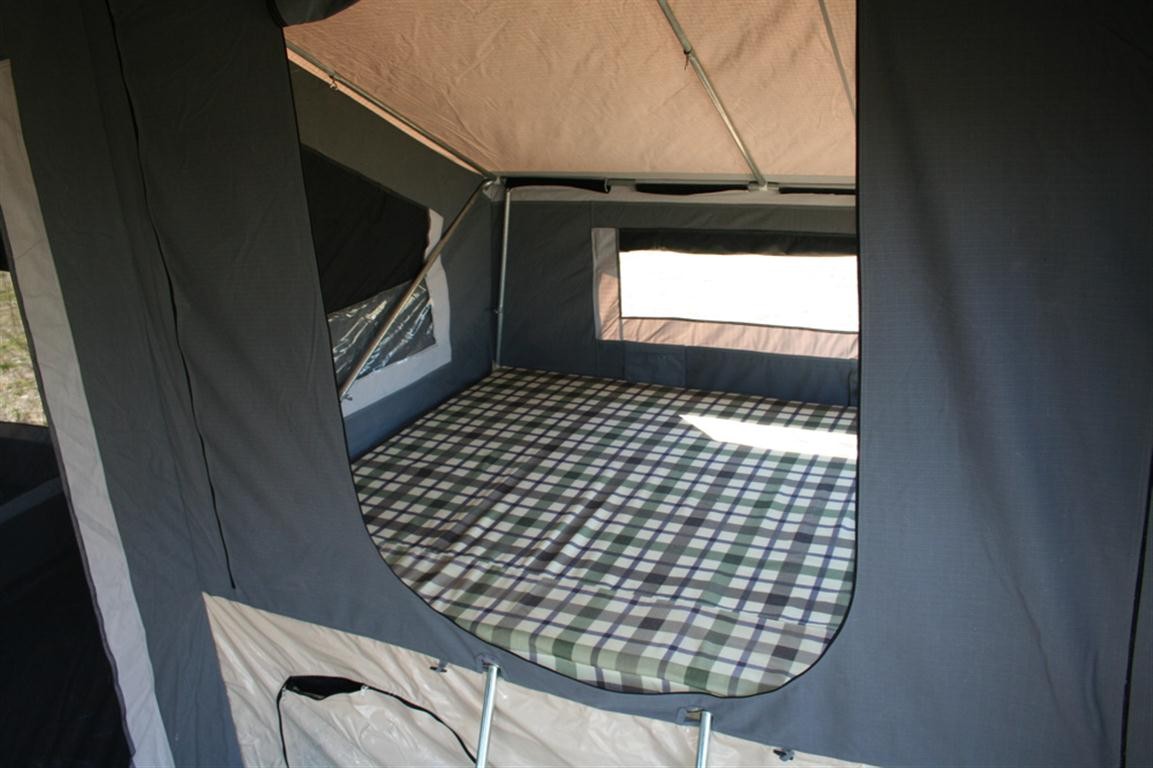 We've thrown in a generous 10cm mattress so that you have all the necessities included




All tent stress areas have additional reinforcing
We wanted to ensure that any possible stress point on the tent was covered and additionally reinforced so that you have peace of mind on your holiday that no rips, tears or leakages could rain on your parade.
Heavy Duty Trailer Cover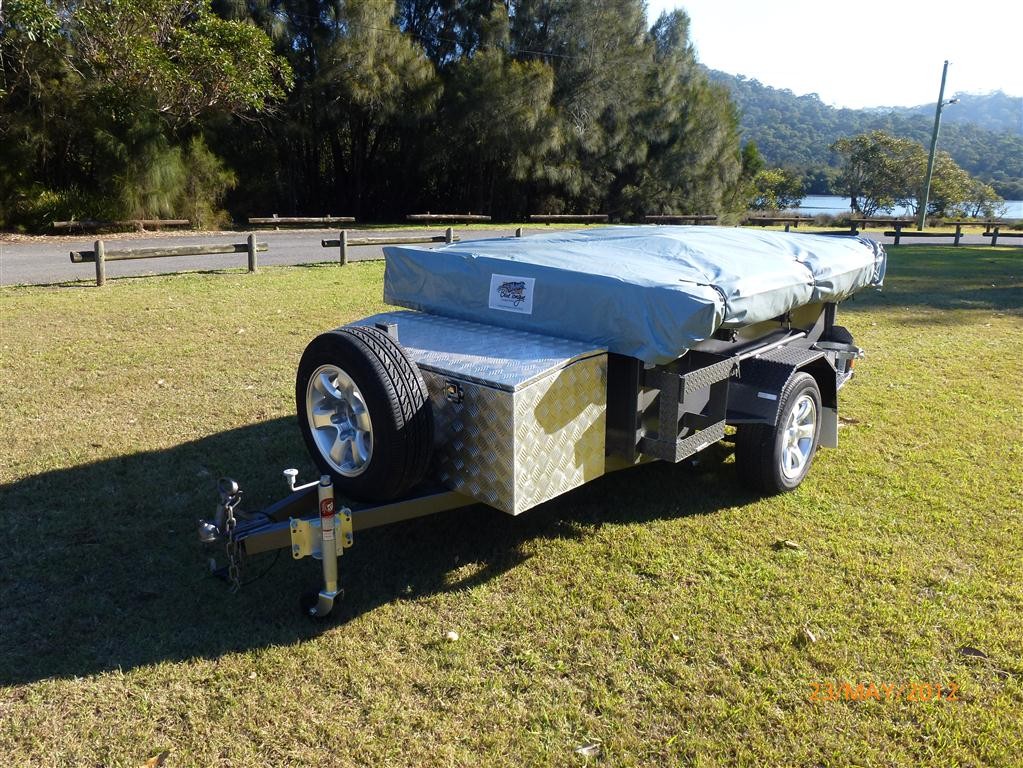 All blue tongue camper trailers come with Quality PVC dust proof and waterproof camper covers.
Tent Layout

Manufacturer

Blue Tongue Campers

Manufacturer Location

Sydney, NSW

Build Time (weeks)

1

Weight

360

ATM

750

Built in

100% Australia Made

Trailer Specification

Trailer Size

7x4

High Sides

yes

Dimensions (metres)

3.8Lx1.7Wx1.2H

Chassis

40mm steel Angle

Drawer Bar

75x50mm

Coupling

Quick release 50mm

Wheels

New 15" High Load rated alloy wheels

Tyres

New 205/65 R15 tyres

Hubs

Landcruiser 6 stud hubs

Brakes

Optional

Axel

39mm Round

Suspension

5 leaf springs

Suspension Options

NA

Corner steadies - wind down

yes

Corner steadies - ALKO Premium Drop Down with Big Foot™

optional

Jockey Wheel

Quick Release Fold Up

Tailgate

Side Opening Lockable

Paint Type

Hammertone Light Grey

Colours

Blue/ Beige, Dark Grey/ Light Grey

Camper Cover

Quality PVC dust proof and waterproof camper cover with Velcro and zip

Jerry Can Holder

yes

Additional Jerry Can Holder

yes

Gas bottle holder

1x 4.5kg gas bottles

Additional Gas bottle holder

Optional

Lockable Storage Box

Optional Draw bar mounted Aluminium Tool box

Upright spare wheel mount

Yes

Spare Wheel and Tyre

Optional Extra

Automotive Seals

Optional Extra

Gas struts, stainless steel piano hinge and lockable over centre latches to tent bed base

Optional Extra

Brakes and Indicator Lights

Standard Incandescent

Trailer Base Completely Sealed Prior to Painting to Reduce Water/ Dust Entry and rust

yes

Tent Specification

Dimensions

18' x 15'

Area

25m2

No of people it sleeps

8

Room sizes

Bed 1: 175 x 230cm, bed 2: 360 x 230cm, kitchen/living: 535 x 240cm

Canvas

Quality14oz rip stop canvas - all stress areas have been additionally reinforced

Canvas Zippers

Heavy Duty

Sealed Floor

Main Tent Area - Sewn in PVC 450g/m2

Annex

3 piece annex walls

Annex Roof

Detachable with Zipper and Velcro

Awning

Floor sealed and detachable with Velcro

Windows

Self supporting rain shields with guiding ropes supplied for windy conditions - selected windows with 1/2 clear pvc and 1/2 mesh

Main bed

18mm marine grade plywood base with steel framing - Includes 10cm mattress and detachable ladder for access

Storage

Internal Pockets

Pegs and guide ropes

Included

Access to Trailer

via a trap door and power cord

Protective Solar Fly

yes

Fold out step ladder

yes
No customer comments for the moment.
Only registered users can post a new comment.