Camping Trailer: A Home Away From Home

Australia, the world's sixth largest country, is renowned as an outdoor lover's paradise. From pristine beaches, to exciting cities and an inspiring outback; the highlights on offer for the adventurous traveler are endless. The best way to experience this marvelous country? By camping of course! Packing up and setting off into the wild red yonder is by far the best way to take it all in. Spending a week-end away, lost in the Australian wilderness, makes for a truly memorable experience..
Camping trailers are the ideal add-on for those who wish to make camping a simple and easy affair. Composed of a metal base, a collapsible frame, and complete with mesh windows to protect you from the elements, these trailers can be towed by any vehicle. Setting up will take just a few minutes, so all you need worry about is finding the perfect camping spot and bingo; you're all set up for the week-end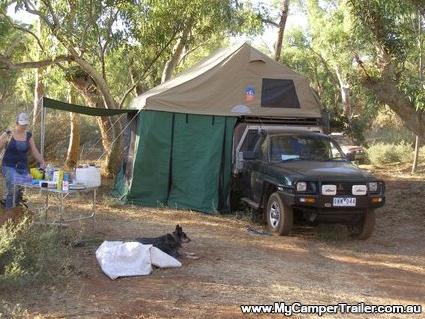 Getaway to your home away from home
Camper Trailers offer you all the luxuries you enjoy at home…outdoors! There's so much our camper trailers can carry, including comfortable beds, kitchenettes, stoves, refrigerators and even televisions! Make sure your campsite has a power source and you need not 'rough it' anymore. This is a great selling point for the wife by the way! Convincing the family to come camping with you for the week-end will be much easier once they realize how comfortable and enjoyable it can be.
Our Camper Trailers are sturdy and made from top-quality materials, providing optimal privacy and safety. Not only are the materials impenetrable, but our camper trailers are also raised, meaning those sneaky reptiles and insects will find no way in! Protect yourself and your family from the elements, and be assured that a camper trailer will be the best choice for your camping holiday.

We use only Rip Stop or Billabong canvas for our trailers; materials which are guaranteed to last for years. The canvases are dynaproofed and are constructed using a mix of polyester and cotton. Tightly woven and reinforced, these materials are just perfect for those sturdy roofing and walling requirements. Don't let weather worries ruin your plans; with our camper trailers you'll be guaranteed a warm, cosy and ever-so comfortable camping holiday.

So pack the car, the wife, the kids, the dog and your camper trailer…and set off for the trip of a lifetime.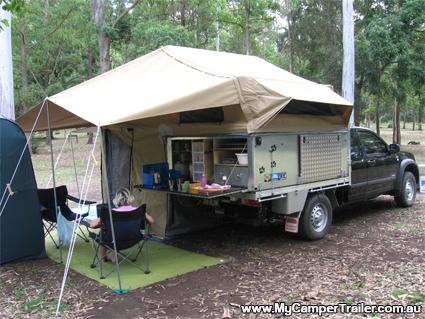 Hassle free camping
Enter your details to see...
How To Avoid The 7 Deadly Mistakes When Buying a Camper Trailer!
Forum
F.A.Q.
My Account
Warranty
Delivery
Just picked it up! Exactly what I wanted. I can't wait for the weekend to take it out and test it. Thank you very much for your help, really appreciate it.
Daryl Butwell, Berala, NSW