Ensure an Awesome Camping by Using the Right Camper Trailer Tent
Fancy packing your toothbrush and setting off for the week –end? Seems impossible? Not with a Camper Trailer! The wonderful convenience of having your camper trailer packed and ready to go at any time is a truly priceless luxury! With a Camper Trailer Tent you, and your family, can be assure of a blissful night's sleep, and all the comforts of home, while enjoying some time in the outdoors. Camper trailer tents can be set up both on and off the ground, making it even easier for you to choose your desired sleeping option.
Camper trailer tents are the perfect temporary accommodation, which you can easily pack up and tow to your next holiday destination. They come in a vast array of styles, colors, shapes and sizes to suit all tastes and budgets.
When choosing the perfect camper trailer tent for you and your family, consider all of the included features before making your final decision. Things like the frame, windows, door, floor, awnings, poles, mattress and ladder should be made of the highest quality materials, and should be built to last.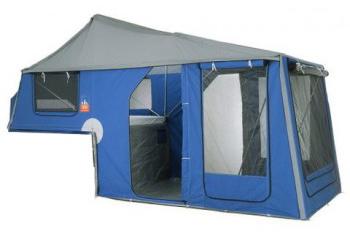 Tent in a cool shade of blue
Camper Trailer Tents are usually made of durable canvas, also known as 'duck'. This single-layer fabric is the ideal outdoor camping material, and is woven to withstand all weather conditions. There are three different types of canvas on the market: army duck, flat-ounce duck and number duck.
Number duck is the ideal choice for tents, as it is the most hard-wearing of all the canvases, and is also used to make golf bags, hammocks, mailbags and sail cloths.
The weight of the canvas is measured in ounces and is graded by weight and thickness; the higher the number the lighter the duck. While we assure you that our camper trailer tents are made from the most durable materials…we guarantee you no ducks were harmed in the making our or tents!
Convenience is the key here! Our camper trailer tents can be bought separately and can be easily mounted to your camper trailer. When choosing the right one for you, consider the size (of your trailer AND your family), the weather conditions you're likely to come across (do you leave in the far north or the far south of Australia?) and you should also choose one which you can pack up and dismantle easily and effortlessly (to impress the kids of course). Buying a Camper Trailer Tent which is within your budget is also a good point…you may need some money left over for the actual holiday!
We like to think that, of all the traveling methods, camping is the most enjoyable and intimate family experience. There's nothing like spending a few days with you family and friends, blissfully enjoying the outdoors, to reconnect, bond and build some lifelong memories. There's a Camper Trailer Tent which will be just perfect for you, so choose one today and take the 'wild' out of wilderness!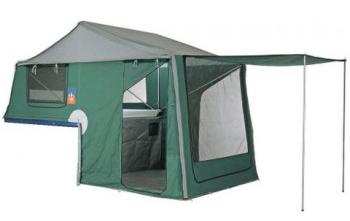 Tent in a natural green
Enter your details to see...
How To Avoid The 7 Deadly Mistakes When Buying a Camper Trailer!
Forum
F.A.Q.
My Account
Warranty
Delivery
Just picked it up! Exactly what I wanted. I can't wait for the weekend to take it out and test it. Thank you very much for your help, really appreciate it.
Daryl Butwell, Berala, NSW