Camper Trailer Kitchen - An Important Part of the Camping Experience!
Camping in the great outdoors is by far one of life's most enjoyable activities. Not only does
camping
allow closer contact with nature, but its very essence offers an affordable and infinitely fun way to spend your free time. But let's be honest, there comes a time in everyone's lives when sleeping on a thin foam mat, and surviving the week-end on tuna cans and bread, just doesn't cut it anymore.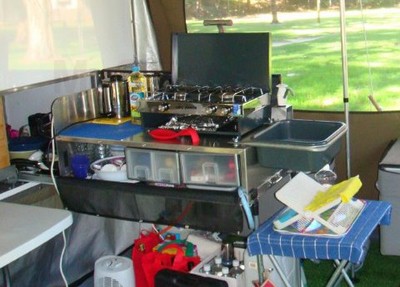 Everything excluding the kitchen sink
Sometimes, we all wish we could take our most beloved home luxuries away with us when camping; this is particularly true when it comes to food. Baking sweetbread in a billy-can can actually be fun, but only the first few times…after that it becomes a tad boring. Not just the baking, but also the eating!
Luckily, the choice of camper trailer kitchens on the market is just outstanding! Nowadays it has become easier than ever to bring the comforts of your home kitchen on the road. Camper trailer kitchens are the ideal add-on for anyone who wants the tastes and variations of home, even when camping. No longer will you be restricted in your dining options, when you add a kitchen to your most beloved camping equipment.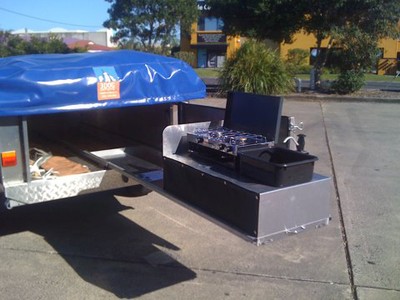 Slide-out camp kitchen with 2-burner stoves and washing-up basin
What on earth is a camper trailer kitchen anyway?
So let's backtrack just a moment!
Camper trailer kitchens are an ingenious invention, which are taking the camping world by storm. The addition of a fully functioning kitchen, mounted on a convenient and handy
camper trailer
, makes for a fantastic and comfortable camping experience. Once upon a time, the only way a camper could get a hot meal was if he were to spend hours roasting over an open fire. As romantic as that is, it's nice to know that the only things we need to roast over a campfire nowadays are freshly caught fish and marshmallows! Thanks to camper trailer kitchens, the gastronomic world really is your oyster, no matter how far from home you are.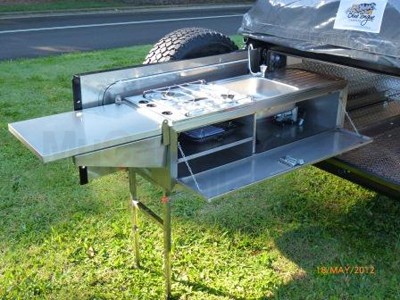 Elegant, easy pack away camping kitchen with gas stove and sink
What should you look for when choosing a camping trailer kitchen?
First of all, of course, you need to look for a manufacturing company which boasts a long-held and trusted reputation. Your main priority should be to purchase the highest quality camper trailer kitchen your budget allows.
Look for kitchens made with durable materials, which include sturdy runners so the drawers don't fall apart after few months; you should also make sure the materials used are treated against rusting. Your investment will be well worth your while, as long as your camper trailer kitchen is guaranteed to last for years!
We urge you to also make sure that the design of your kitchen, and all the materials, will make it easy for you to keep it clean. Hidden nooks and crannies are magnets for dust, dirt and food scraps; so make sure you pick one with a sleek smooth finish, designed for easy cleaning.
As far as style, shape or size is concerned, your own personal requirements will be the biggest determining factor; so pick a company which offers plenty of choice. You can opt for one or two- burner stoves, one or several drawers, or even built-in retractable bench space. Size will also depend on your own personal needs; we suggest you invest in a multiple cooker if you have a large family.
This will mean you'll spend less time in the kitchen and more time enjoying your camping trip.
Enter your details to see...
How To Avoid The 7 Deadly Mistakes When Buying a Camper Trailer!
Forum
F.A.Q.
My Account
Warranty
Delivery
Just picked it up! Exactly what I wanted. I can't wait for the weekend to take it out and test it. Thank you very much for your help, really appreciate it.
Daryl Butwell, Berala, NSW