Camper Trailer Brisbane
Brisbane is a fantastic holiday destination for outdoor lovers. While the city may disguise itself behind a modern and fashionable façade, it will not take you long to realize that what lies beneath, is a charming and relaxing country town. Taking your Camper Trailer (and your family!) on holidays to Brisbane is the ideal choice for anyone who dreams of tropical weather, a relaxed atmosphere and innumerable outdoor activities.

Heading to Brisbane with your Camper Trailer means your choices of accommodation are truly endless; from the city, to the suburbs and the nearby reserves, there's no corner of this paradise that can't be reached with your Camping Trailer. In and around the city you'll find the Brisbane Getaway Resort, Brisbane Holiday Village and New Market Garden Caravan Park to name but a few. Venture a little out of town and you could spend blissful days relaxing at the Camp Lake Fire in the Scenic Rim area, or the Lake Somerset Holiday Park, or perhaps the Murphy's Creek Escape in Locker valley will be more to your liking. Take the stress out of everyday life and spend some quality family-time camping and relaxing in the great Brisbane outdoors.

Click and drag. Use the zoom in/out or lock features

Click and drag. Use the zoom in/out or lock features
Enjoying an awesome camping experience is a breeze with a Camper Trailer in Brisbane. The campsites in this area are second to none, and offer all the comfort and facilities you'd expect from world-class establishments. Some of the amenities on offer include:
power supply
wide open spaces ideal for your Camper Trailer set up
spotless shower blocks and hygienic amenities
spacious BBQ areas for guests
laundry facilities (usually at extra cost)
Each campsite has its own special charm; while some may offer tennis and golf courts, others may have an in-house swimming pool. So choose the one which suits your needs most, and head to Brisbane with your camper trailer for a relaxing holiday with a difference.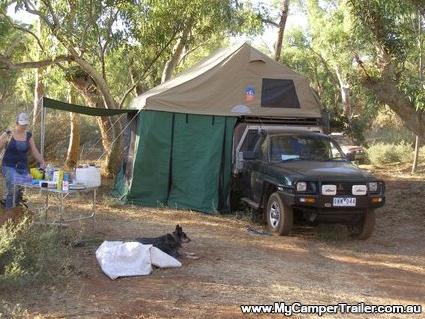 Escape into the Queensland outback
If you are looking at purchasing a camper trailer, www.mycampertrailer.com.au is the largest online supplier of camping trailers Australia wide. Please feel free to contact us with any enquiries.
Enter your details to see...
How To Avoid The 7 Deadly Mistakes When Buying a Camper Trailer!
Forum
F.A.Q.
My Account
Warranty
Delivery
Just picked it up! Exactly what I wanted. I can't wait for the weekend to take it out and test it. Thank you very much for your help, really appreciate it.
Daryl Butwell, Berala, NSW